Original ideas for an unforgettable wedding in Ibiza. Part II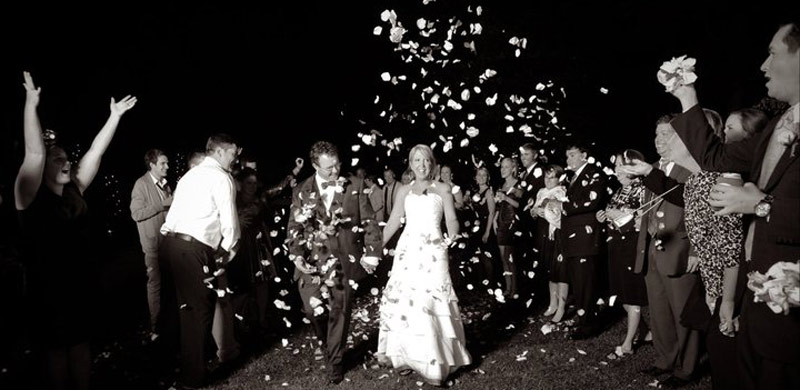 How are your wedding preparations going? From the restaurant Ses Roques at Cala Comte beach, Ibiza. We would like to offer you some tips to make your big day go perfectly. Today we would like to share a very original idea we have seen on the blog of the wedding dress designer Rosa Clará. Alternatives to rice and confetti to throw at the newly married bride and groom.
The usual substitute is rose petals, something that is always elegant and romantic but there are other options. For example you could also choose to give a more rustic touch and use sprigs of rosemary or lavender. Or confetti placed in small paper bags with the wedding logo or the names of the bride and groom.
Instead of throwing something (there are some couples who prefer their guests not to) flags could be handed out to wave at the bride and groom as they leave the place of the ceremony. Another beautiful and magical idea is soap bubbles, giving guests pots so that they can fill the exit of the couple with these bubbles. There is just one thing with this; some soap can stain the clothes. If it is an evening wedding, sparklers could be used as the couple leave the ceremony or better still, as they enter the reception.
The ideas are endless. For example you could have sticks with satin ribbon attached to wave, throw seeds, or use the bright luminous ribbons often used at concerts. Other original ideas could be to make confetti out of fabric, hand out balloons to be released as the couple leave or even throw different coloured confectionary shavings used to decorate cakes (something not advisable if it is hot as they will melt).
According to Rosa Clara's blog, it is also very fashionable to throw confetti in the shape of butterflies or even release real ones; away they fly! or balloons. If you want to use rice you could always use a dye to colour it so that the end result is more colourful and not quite so dull.
Apart from all these suggestions there are a few more. For a softer alternative you could use cotton wool balls. It is also a good option, with the arrival of autumn, to opt for a shower of dried fig leaves, something very typical of Ibiza as the island's landscape is full of this Mediterranean tree. This is ideal for weddings that are held from September and throughout October because the overall effect is very autumnal.
Preparing the leaves has a trick. First you have to collect them and prepare them so that they don't dry out or become rigid. Ideally they should be soaked in a solution of glycerine and water; one part glycerine to two of water. The underside of the leaf should be immersed in the solution then another one placed on top, thus making a small weight so it is completely covered by the liquid. These should be left to soak between two to six days and then taken out using a paper towel.
Photo Megan Warren