Tips for choosing the perfect wedding menu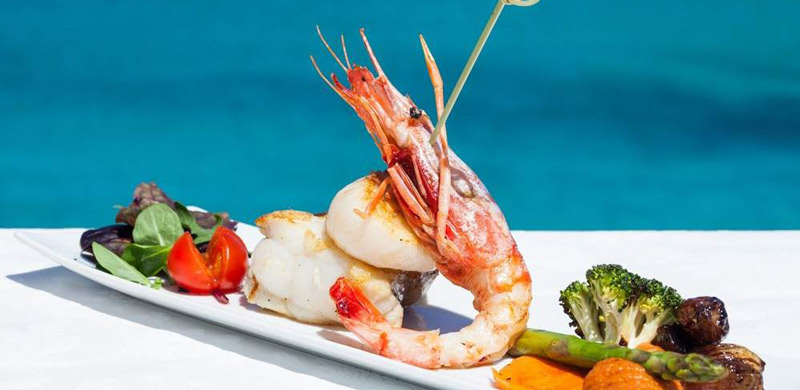 There are many things that must be taken into account when organizing a wedding, but perhaps one of the most important ones is the choice of menu that will fit the needs of your event. For this reason, Restaurant Ses Roques would like to help you with a few suggestions that will make your wedding unique and unforgettable.

We open our doors from March to October so that you can celebrate your special day with us and bearing this in mind, one of the first things to consider is that the menu will be suitable for the time
of year in which your wedding will take place. Ses Roques has a varied selection of dishes that are more suited to warmer weather, as we all know that our appetite is not the same in the summer as in the winter. Something else to consider is whether the wedding is during the day or if it is an evening event. Banquets at night usually mean opting for a lighter menu rather than if it is to be held during the day.
Would you like an informal wedding where the guests go more at their own pace? Or maybe you would prefer a formal one with more classical dishes. This will depend on the type of menu to be served, and according to your tastes and that of your guests, we can offer traditional options to be served at the table or to be different you could choose a more relaxed atmosphere, such as cocktails on the rocks, looking out at the sunset.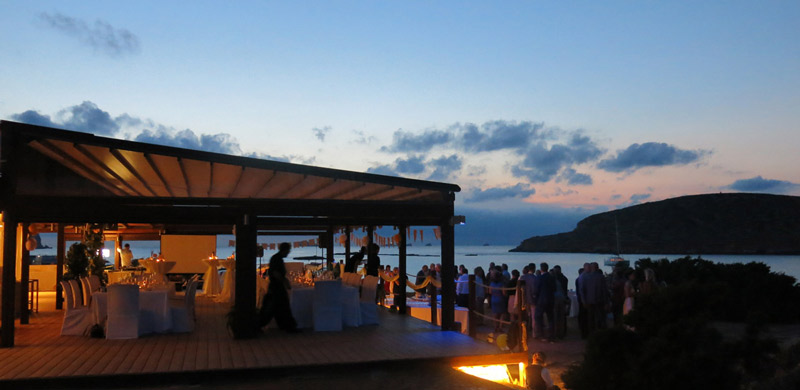 Another important aspect is how many guests will be attending and their tastes. At a large wedding it is best to choose things that will appeal to everyone without having unknown dishes which may not be liked by some guests. For example, if it is a banquet with older guests, a Bullit de Peix would be a very successful choice, whereas if you choose a starter such as Sushi, you may find that it is returned to the kitchen untouched. You should also keep in mind that if you choose complicated plates or ones that need to be cooked to individual tastes, as in the case of grilled meats, this will only complicate things and could even result in the dishes being badly presented at the table. This is also something to think about in very large weddings. Knowing your guests is vital and showing your concern for their needs is a detail that will be greatly appreciated. Find out if they have food allergies, if they are vegetarians or if they need a gluten free diet. Children are also guests who need special attention because they don't usually like fancy or elaborate dishes. A special menu just for them would be a great option to ensure that everyone eats something.
If we focus on the menu itself, the two key points are quantity and quality. If you wish to start with a spectacular cocktail as a welcome drink at the wedding then it would be best to limit the number of dishes to be served later, otherwise you may find you have food left over or your guests are too full. On the other hand, a lunchtime banquet may be more plentiful as you have the rest of the day ahead to digest the meal while enjoying the rest of the celebrations. As far as quality is concerned, it is obvious that on such a special day you cannot skimp on anything and the quality of the products must be first class. In Ses Roques we assure you that the menu you pick will consist of the
best and freshest products available and by choosing traditional and seasonal dishes of the island a more authentic flavour is guaranteed.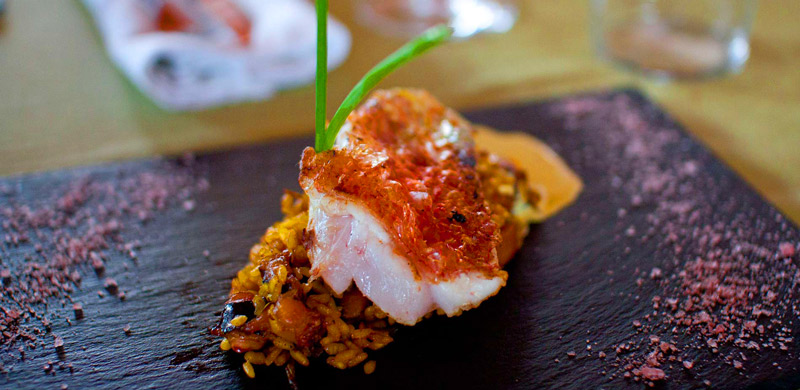 The dessert is another important factor to consider to complete the banquet. A classic weddingcake is always a safe option and Ses Roques have the best pastry chefs to make your dream cake. The only thing to think about, as with the main menu, are your guests, so it would be best to choose flavours that will appeal to everyone. There is no set rule that you should have a cake, any option that suits you and your tastes will do fine.
And finally, it is not only necessary to focus all your attention on the main menu, even though it is the star of the evening. It is possible that the party will go on late into the night and the guests will begin to feel hungry again. You could always have a few snacks prepared should this happen and by doing this it will ensure that everyone is happy until the celebrations finish.
Check out the Special Events Menu of Ses Roques