Cala Conta beach, the perfect location for business events in Ibiza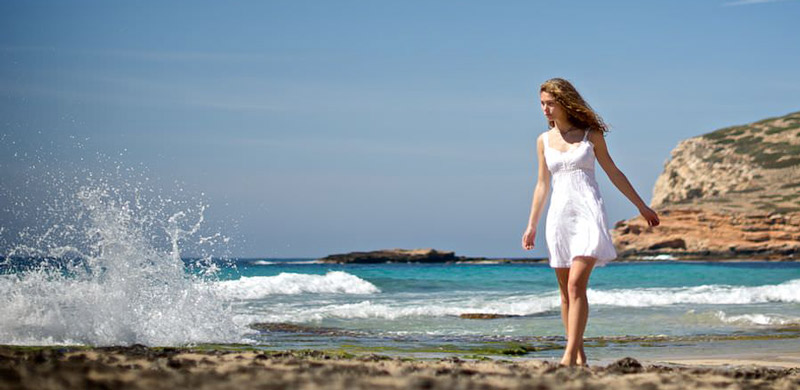 Cala Comte is one of the most impressive beaches of Ibiza. Beautiful views over small islets, turquoise seas and a unique Mediterranean landscape of pine trees and junipers. Choosing this location to celebrate an event for your company is a guarantee of success.

The restaurant Ses Roques in Cala Comte is well prepared for hosting business meetings and the presentation of products. Equipped with WIFI it also has everything you will need to organize your meeting: audio, projector and any appropriate decoration for the event.
The establishment and especially its surroundings can accommodate all types of events imaginable: wedding receptions, business lunches and dinners, television productions, fashion photo shoots, incentives etc. It has the capacity for 220 guests and is equipped with a professional team with great experience in organizing such events.
The secret of its success is that it is by the sea, in one of the trendy beaches of the island with a landscape that is sure to leave your guests, clients and colleagues extremely impressed. It has has much to offer gastronomically with typical top class dishes of fine cuisine from Ibiza and an event menu specially designed to suit your needs. It offers great service and above all, much involvement in the organization of each event, the preparation of menus and advice on decoration and presentation.
The restaurant Ses Roques is ideal for example, if you want to organize a photoshoot, anything from fashion to products such as motor cars. It is also the perfect location, with the islets in the background, for publicity shoots, movie settings or television productions of all kinds. Permission from the local town hall in San Jose (where Cala Comte is situated) will be required for this type of activity. In this link you will find more information
Your event will be even more successful if you include the outdoors. The scenery and climate of Ibiza make it perfect for boat trips, cycling, kayaking, paddle surf, hiking, diving courses etc. There are many companies in Ibiza that organize such activities for groups and companies. This would be the perfect complement to your event, making it one which will be remembered for a very long time.
For more information please contact us.