How would you like to decorate the restaurant on your wedding day?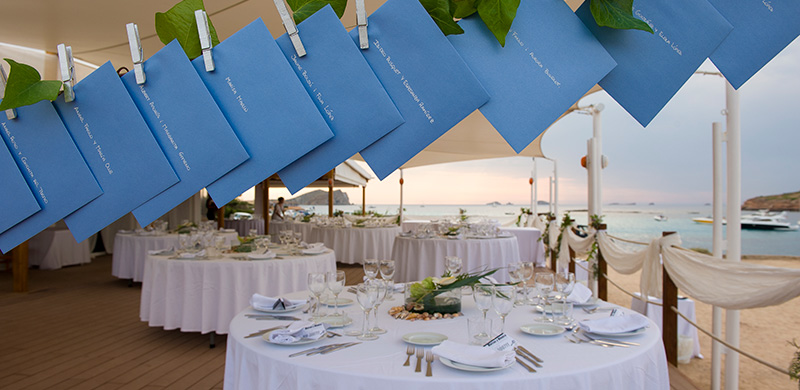 Hello again everyone! Well, we are already into 2014. Are you getting married this year? As you know the Restaurant Ses Roques specialises in this type of event.
The location of the restaurant, on the beach of Cala Conta, overlooking the sea and surrounded by Mediterranean nature, together with the large variety of dishes on our menu, makes this the ideal place.
Today, we would like to give you some ideas on how to decorate Ses Roques to your liking. Because we want to make it special we will let you decide how you would like the restaurant to look on your wedding day. Above all, we want you to enjoy the environment in the company of your family and friends. So here we go!
As you know, "vintage style" is currently extremely popular when it comes to decoration and Romantic and Bohemian weddings have become very fashionable. The word "vintage" refers to a classic and elegant style, where the past is now modern fashion. Vintage style weddings are based on decorations using antique items, neutral shades and romantic floral arrangements. The decoration of the tables is characterized, for example, by the use of Baroque tableware, gold or silver ornaments and classical decorative motifs. The floral arrangements stand out due to the soft tones and their simplicity. An example would be a bouquet of white or very pale pink roses with short stems tied together with ribbons decorated in neutral shades. Paper garlands or other decorative motifs, such as birds, would fit in very well with this style. The table centrepieces with white candles, crystal vases or clear bottles with fresh flowers, menus and place cards made from recycled paper, would be perfect complements to make Ses Roques shine on your wedding day.
Ibiza, known as the White Island, has a unique style of fashion, Ad-lib, which has its own gateway in the Pitiusas. Natural white fabrics could be the basis for your wedding in Ses Roques. Imagine the Mediterranean, turquoise waters, green pine trees, red earth…. Decorate the tables with soft colours and aquatic motifs, such as centrepieces with smooth edged pebbles, crystal vases with almond branches and simple silver cutlery….. The chairs and ceiling in Ses Roques can be decorated with ribbons and flowers of white tulle, combined with natural elements like shells, driftwood eroded by the sea and other water features which are characteristic of the Ibizan landscape.
Which style do you prefer? We hope that you have liked our decorative ideas and that you take our advice in decorating Ses Roques. Follow your instinct and be advised by our team of professionals.
Let's decorate!!!!!
See you soon!!