Things not to worry about on your wedding day in Ibiza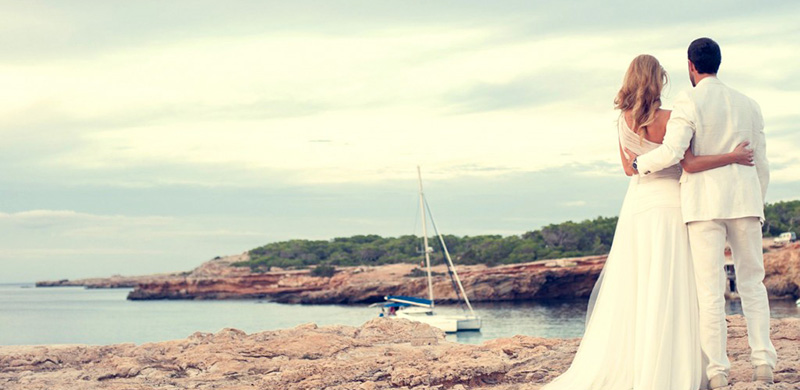 Your wedding day should be the happiest day of your life but there is always the fear that something may go wrong. Any couple can be afraid of the unexpected and this can result in not enjoying the day in Ibiza to the full as you should do.
On today's blog from the Restaurant Ses Roques we will give you some tips on how to ensure your wedding day goes smoothly and without any hiccups. The first thing we would like to tell you is that our restaurant is the ideal venue for a wedding in Ibiza. We are experts in organising such events and also we are in an incomparable location, overlooking one of the most beautiful beaches on the island, Cala Comte: So what could possibly go wrong when you are overlooking the sea?
The first thing you should do is relax. It will help you just by being in Ibiza, a wonderful setting surrounded by the sea. In the morning before the wedding try to take time to enjoy the tranquillity. A good way to relax is with a beauty treatment and Spa. There is no better way to leave you feeling refreshed and fully prepared for a day that's sure to be long and full of emotions
Our second recommendation is for the bride to change her dress and shoes after the ceremony and the meal. The reason for this is that you will feel more comfortable and more relaxed to enjoy the hours of partying and dancing. An ideal solution would be something very similar to the wedding outfit but maybe a little more comfortable.
Another good piece of advice is to hire a photographer who will take photos continuously throughout the day. In this way you won't be so aware of him and the end result will be a fantastic album with pictures where you don't appear to be posing but more natural and original.
Bad weather is another factor which the bride and groom are usually very aware of. We recommend that such an important event is celebrated during the months of May and June, these two months being ideal in Ibiza to get more favourable weather. However, any time is good. The climate is impossible to control and it can rain regardless of the chosen date, so it's not worth being worried or upset by it. We have a well-known saying which is, 'a wet bride is a lucky bride'.
Nor should we become obsessed with other things, such as whether all the guests look immaculate. White is a very complicated colour and can easily stain. If you are concerned about the appearance of your guests then it is probably best if you state a dress code on your wedding invitations.
As for any children who have been invited to the wedding, it may be a good idea to hire someone to take care of them. They will have a great time and this will allow the parents to fully enjoy the event.
Another great tip is to have a good breakfast or meal because this will be a very long day. If you are nervous you won't feel very hungry but your stomach can make strange noises at the most unexpected times.
The best thing to do is drink plenty of water and stay away from alcohol or fizzy soft drinks. And remember, above all, it's your wedding day, so enjoy it!!!