Cala Conta beach, a natural paradise in Ibiza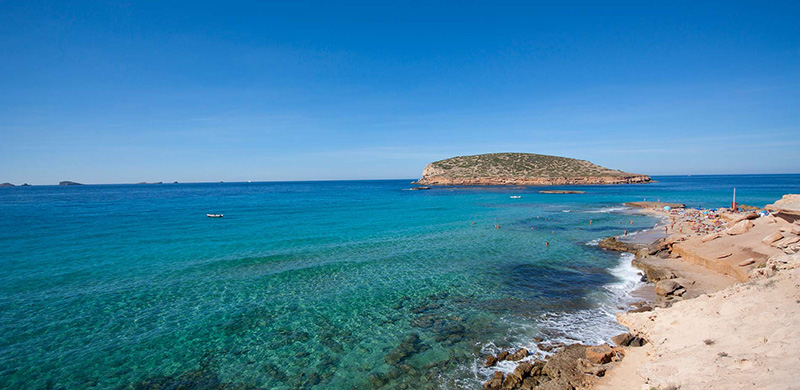 Today we would like to present to you our new blog from the Restaurante Ses Roques,in which our aim is for you to get to know us better, with suggestions and temptations so you will enjoy, even more, your experience on the island of Ibiza.
And the best way to start is by bringing you a post about the beach of Cala Conta, where you will find us… Platges de Comte, popularly known as Cala Conta, is undoubtedly a unique place and one of the best beaches of Ibiza and, for many people, one of the best in the world.
Cala Conta beach is actually a series of coves joined together by beautiful natural viewing points, with fresh air, rocky areas and beautiful sand. It is Ibiza at its best, sublime scenery, a natural paradise in Ibiza. It is located in the municipality of San Jose (Sant Josep de sa Talaia), which is on the west side of the island and also close to other superb beaches.
The combination of factors such as the seabed, the white sand, rocks, posidonia, the light of Ibiza, its transparent waters and being open to the sea, bring about an explosion of different tones of blue which are difficult to describe in words.  And for those who are lucky enough to enjoy it, extremely difficult to ever forget…From the coastline you can see the islands of Es Bosc, Sa Conillera, Ses Bledes y S'Espartar making the views from the beach even more spectacular.
It is in this wonderful environment that we find the Restaurante Ses Roques. In addition to the extraordinary place you can enjoy the best gastronomy, like the traditional Ibizan cuisine and seafood, the best rice and fish along with other authentic Mediterranean dishes.
In addition to being in a privileged position by the sea, the Restaurante Ses Roques is an excellent place for organising all kinds of events, such as wedding banquets and other types of celebrations. A special day in a unique place…Due to its superb location, Cala Conta also gives us, every day, some incredible sunsets. A true masterpiece of Nature!
Platges de Comte is without a doubt, a place in Ibiza that no-one should miss. If you have not been to Cala Conta, you have not been to Ibiza. From the blog of the Restaurante Ses Roques, we say goodbye until next week, when we will be back with more suggestions and tempting proposals to enable you to enjoy the island of Ibiza to the maximum.