To celebrate a very special day, events and weddings in Ibiza, Ses Roques Restaurant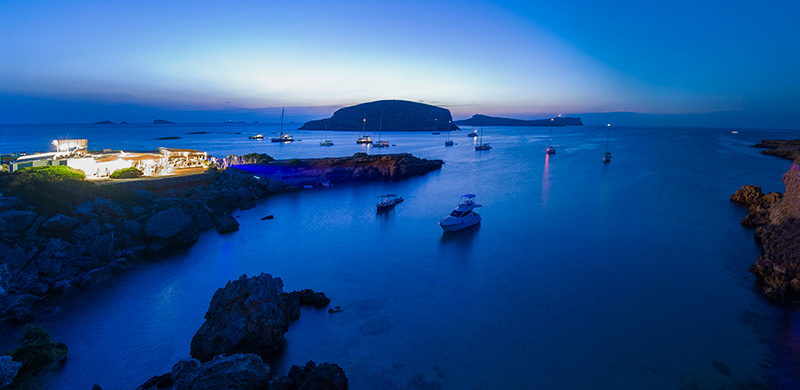 The Restaurant Ses Roques, as we told you on our presentation blog is in Cala Conta (Platges de Comte), one of the most beautiful spots on the island and perhaps the entire coast of the Mediterranean.
Cala Conta is actually a series of coves joined together by beautiful, natural viewing points. It is in this environment, so typical of Ibiza, on one of these viewpoints, that you will find the Restaurant Ses Roques.
This is a unique place to celebrate any important event from wedding banquets to celebrations with family, friends or businesses. It is also ideal for TV productions, fashion shoots or incentives.
Ses Roques has the capacity for up to 200 guests. We offer you our experience organizing events, celebrations and weddings, helping you with all the planning and details. We can also offer you the possibility to rent the entire restaurant on a daily basis. All for you!!
Here are some reasons to hold your special event at Ses Roques to ensure a guaranteed success.
1. Our location. One of the most beautiful places in Ibiza, on the beach at Cala Conta.
2. An unforgettable experience. A lasting memory for you and your guests.
3. Gastronomic offer. Always the highest quality in all our dishes. Experts in Ibizan cuisine. An extensive selection of events, offering full flexibility regarding the dishes.
4. Service. A great team of professionals at your disposal, always professional and attentive. In addition we can offer you our experience and help with everything so that your event meets your desires.
5. Collaboration. We will offer you all our experience in the planning of your celebration. We can suggest gastronomic offers, timing schedules, collaborators for decoration, florists etc. We will put at your complete disposal all our experience and help in designing and personalising your special day.
6. Budget. In spite of being in one of the most incredible places in Ibiza we are able to adapt to your possibilities. Come and see us, you will be surprised!
For that very special day. A wonderful magical place. Restaurant Ses Roques.