We present the new website of "Ses Roques"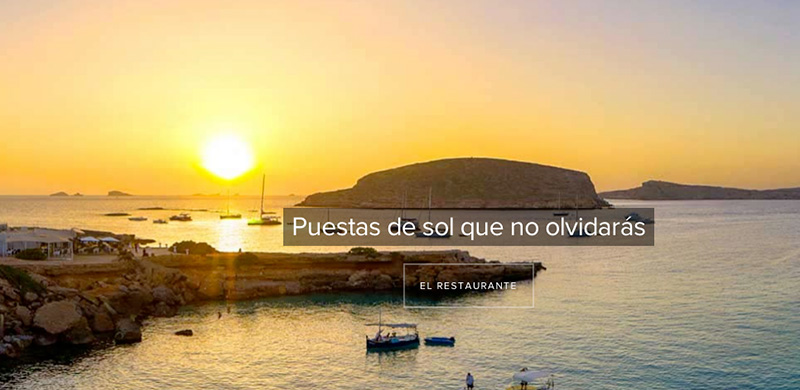 With this new blog post we would like to introduce to you the new website of the Restaurant Ses Roques. As you can see we have a new image. Now you will be able to enjoy the contents of the web page in a more dynamic and visual way.
You will find the different sections of the web page on the sidebar on the left. By clicking on any one of these you can quickly and easily access any information that may be of interest to you.
First click on the link "The Restaurant", where you can read a little more about Ses Roques and also view an automatic selection of spectacular photographs of both the restaurant and its location, the beach of Cala Conta. Next is "The Menu". Here you can read about the type of cuisine of Ses Roques, a gastronomic offer based on Mediterranean and Ibizan roots.
In the section "Cala Conta" we talk a little more about the location of Ses Roques. It is one of the most incredible beaches on the island and possibly in the world. The gallery of photographs will help you to discover a magical place with white sand and crystal clear waters, making Ses Roques, a unique and beautiful place to enjoy the cuisine of the island.
The link "Weddings in Ibiza" is where we explain why Ses Roques is the ideal place to make your special day one that will be unforgettable, the food, the setting, the service…. In "Menu for Events" you can learn a little more about the type of cuisine we have to offer for the celebration of your special day. We are flexible; we have different budgets to offer you and a team of professionals ready to help you in whatever you may need to ensure that you enjoy your day to the maximum, together with your friends, family, co-workers……
In the "Blog" we will continue to keep you up to date with all the activities relating to the restaurant Ses Roques, so you will not miss out on any details.
You can also find us on the social networks. We update frequently, so if you do not want to miss anything new, you can follow us on Facebook and Twitter (@sesroquesibiza). We are also on TripAdvisor where you can read the opinions of those who have already been to Ses Roques, or you can tell us about your experience in the restaurant. ()
See you soon with more news and information. We hope you enjoy our new web.