Our recipes: the seafood paella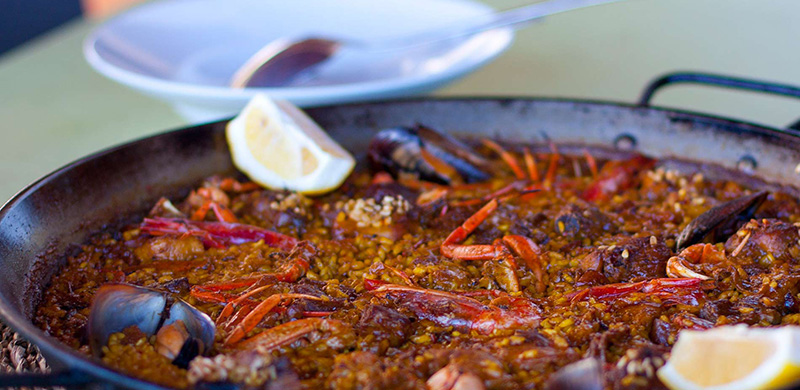 Today, in our blog, we want to present one of our popular dishes: the seafood paella.
As you well know, at Ses Roques we're Mediterranean cuisine lovers, and of course, of Ibicenco traditional cuisine. The seafood paella is one of the favorite dishes of our customers and today we'll show you the secret of this traditional rice dish recipe. Can you guess our secret? Exactly! We only use fresh and top quality ingredients. The key to any recipe being a success. Let's see what steps you have to follow to prepare this delicious Paella.
First, we souté the shellfish. In this case, we use crab legs, Ibiza shrimp and Norway lobster ("cigala" in Spanish). When it's done, we remove the shellfish and keep it apart. Then we slightly sauté the fish. And remember, as we mentioned before, using only fresh produce and ingredients, so depending on what we find that day in the market, we may use for the paella grouper, "sirvia" and/or monkfish and other kinds fish of the waters of Ibiza. Very tasty and healthy.
Then we sauté the onion and green and red pepper, cut all into very small pieces. Now, with this sauce already made, add some natural crushed tomatoes and we add the rice. We mix well and we add "la picada", a key flavor of the paella. It is made with chopped garlic, parsley, fish liver and olive oil in a mortar. We add it to the pan and then we also add the saffron.
Then we add fish stock ("fumet") to the paella and let the rice "drink" the broth. Then we add the fish and shellfish that we have previously sauteed before and we let it cook for about 15 to 20 minutes. Finally we put the paella into the oven until the rice is almost dry. Then it's ready.
Tips for tasting it? In a table with your friends while enjoying fantastic views of the beach of Cala Conta from Ses Roques restaurant. We'll be expecting you!