Special Menu for events and weddings 2014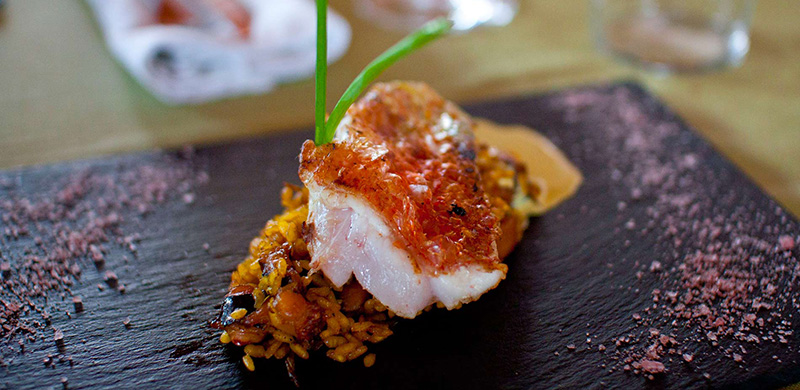 The Restaurant Ses Roques, located at Cala Conta beach (Platges de Comte), is one of the most idyllic and unique places on the island of Ibiza to celebrate any type of event, weddings or celebrations. We offer you, an excellent service, a guarantee of quality cuisine and are able to adapt to your wishes so that you can truly enjoy your special day with your family and friends.
In today's post I want to tell you about the different culinary delights that we can offer you from our "Menu for Events 2014", where you will find a wide range of dishes, appetizers and starters, main dishes (meat, fish and seafood) together with our varied assortment of desserts (cakes and other sweet dishes). We also have an extensive wine list to choose from, including white, red, sparkling wines and champagnes.
We would like to recommend some dishes from our "Menu for Events 2014" that your guests will not easily forget. To whet your appetite there is nothing better than a tasty snack with an oriental touch. How would you like "Prawn in a nest of potatoes with a Thai sauce"? Or maybe you would prefer a more traditional "Chupa Chup spicy sausage with honey"? Or a delicious "Piece of Foie with mango sprinkled with salt flakes"
Continuing with our suggestions, you could enjoy some Mediterranean starters mixed together with essences and products from various international cuisines. A "Ceviche of Sea Bass and shrimp with roasted peppers" Take delight in our salads "Typical salad of Peix Sec from Formentera and tomato confit with rosemary" or let us surprise you with our Carpaccio, a classic "Carpaccio of lobster with tomato tartar" or a "Carpaccio of beef with slices of mushrooms, chives and garlic topped with Yuzu vinaigrette"
As for your main course, let us tempt you with four appetizing suggestions. For lovers of fish and rice "Loin of Rotja on A Banda Rice with a Bullit de Peix sauce" or "Mediterranean Bluefin tuna grilled with guacamole, soya sauce and ginger" And for those who prefer meat how about "Crispy Suckling pig with mashed potatoes and Pedro Ximenez sauce" or a delicious "Beef Tenderloin" or "Ox Fillet"  with testy Red potatoes.
We couldn't finish our suggestions without recommending a delicious dessert. The "Thai Tart", an almond cake with lemon, passion fruit and mango mousse, a fine layer of toffee mousse and Bavarian vanilla bourbon" or the "Three Chocolates", chocolate sponge cake with a mousse of white, milk and dark chocolate, together with a chocolate sauce"
If just thinking about all these culinary suggestions is making your mouth water, all you need to do is contact us to choose a date and we can ensure you that you will enjoy totally your special day in a very unique atmosphere
Reservations or more information,  info@restaurantesesroques.com