Our tips for a dream wedding in Ibiza.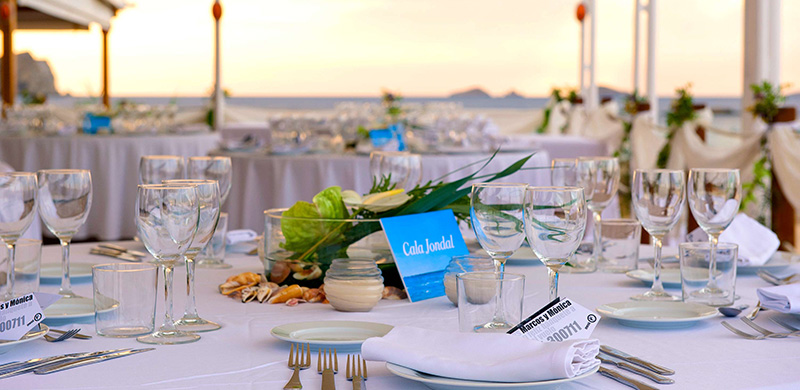 We know that one of the most important days of our lives is the day of our wedding, surrounded by family and friends, in a magical setting.
That is why, from our blog we would like to give you some tips and advice on organizing your dream wedding in Ibiza, without neglecting any detail so you will remember your day as it deserves. We hope our tips will be useful. Here we go!
1. Choosing the dress.
This is perhaps one of the most exciting moments for the bride. The fashion world today offers a wide variety of dresses ranging from the classic to a more daring vintage, romantic style or even the typical Ad-lib style of Ibiza. Our advice is to always choose a dress that suits your personality and with which you feel most comfortable. Remember it's a day for you to enjoy and be at ease with yourself. The simple, clean lines suit all women. Be advised by professionals, flip through magazines, visit blogs and above all choose the dress thinking of yourself.
2.  A special place.
Whether you get married in church or have a civil ceremony, the place where you celebrate the wedding should make you feel relaxed. If you marry in church, choose a pretty whitewashed church, such as in Sant Agusti des Vedra. Decorate it according to your taste with flowers and choose the music you would like to hear. On the other hand, if it is a civil ceremony, what could be better than a magical place in Ibiza, overlooking the sea, during the late afternoon watching the sunset? That place is undoubtedly, Cala Conta Beach.
3. The restaurant and the menu.
Ses Roques offers you a special menu designed for events, to make your day unforgettable. We are flexible, so you will be the one who is in charge of designing it to your wishes and therefore making it a banquet that will stay forever in your memories.
4. The decor.
There are many styles and types of decoration that you can choose for your big day. You could choose a storyline theme for the wedding or opt for a more classic décor. As with the dresses, a vintage style wedding is very fashionable, but if you are getting married in Ibiza, a great option would be to have the traditional white style Ad-lib.
5. The invitations.
Be original, take risks. Make your own invitations; personalize then to make them unique, so your guests will then have a little keepsake or piece of artwork to take home with them.
6. The cake.
This is one of the most awaited moments of the wedding, seeing the cake brought out. The chocolate cake is a firm favourite "chocolate sponge cake with a mousse of white, milk and dark chocolate together with a chocolate sauce". Cakes with an exotic flavour are also an excellent choice after a hearty meal. "Almond sponge with lemon, cream, passion fruit and apricot syrup" Or if you prefer another very popular choice are the "Petit fours" and cupcakes, a very individual and original option.
7. The photographs.
We all want to keep a beautiful reminder of our wedding day and that is why the photography is so important. Don't limit yourself to just pictures of the wedding day, have photos taken with your partner before the big day in a place that you both like. Choose a good professional, ask them to show you some of their previous work, but most of all, explain what you would like for yourselves.
8. The guests.
How difficult it is to do a guest list! And how difficult to know how to seat them all! Don't worry there are also professionals for this. With help from the family, your partner and a little patience, you can do it! Just remember that it is your wedding and you are the one who chooses your guests. Nowadays we are more flexible so organize the table planning to your liking.
9. A keepsake for the guests.
Be original. Your guests should remember this day as a very special occasion. If you are the classic type, a box of chocolates always works. Or you could go for a more fun loving approach with little photos, little boats filled with salt or sand from Ibiza, or personalised pins and badges. They'll love them!
10. Transport.
From an ordinary car to a classic one….a carriage, or why not, a sailboat!! If you get married at the beach in Cala Conta you have the restaurant right there and so why not you arrive to your wedding from the sea. Now that would be amazing right?
These are some of our tips for preparing your dream wedding with us in the Restaurant Ses Roques. For any information please contact us at: info@restaurantesesroques.com