What your wedding guests should know!! Ibiza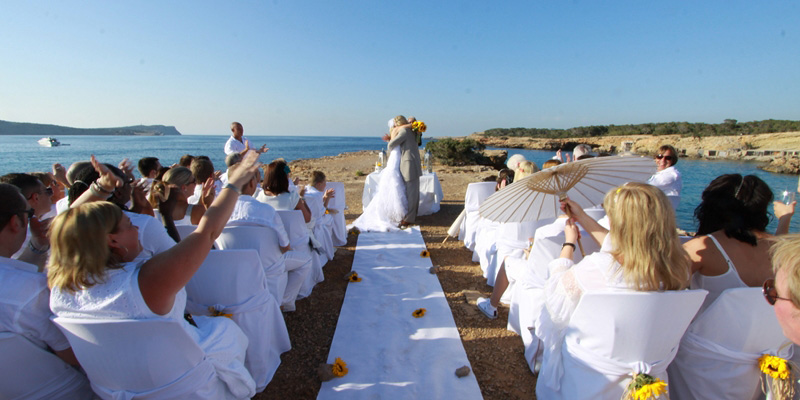 We're back with a new blog post for Ses Roques, to talk a little more about the preparations for your wedding. As you know, from here we like to give you some ideas and tips to make your wedding day in Ibiza both special and unforgettable. What your wedding guests should know.
From the restaurant we will delight you with a fantastic meal, adapted to your needs and tastes so that you, your family and friends enjoy an unforgettable day. But today we want to talk to you about what your guests should know. Here goes with our little bit of help.
 In our last post we gave you some ideas on types of wedding invitations, both classical and digital and we also talked about the different styles of weddings that have been celebrated in recent years. The invitation should contain all the necessary details so that your guests know the place, the day and the time of your wedding. This is the basic information that must be shown on the invitation so that no one misses the party. Another interesting point is to ask the guests to confirm whether or not they will be attending. This is important in order to arrange the restaurant menus, transport and any possible accommodation. If any of your guests have not replied, try and get in touch with them to find out if they will be able to attend.
 As we have mentioned on previous blogs, in recent years, weddings with a theme or storyline have become extremely fashionable. If you have chosen to celebrate your wedding in a vintage or Ad-lib style (Ibicencan style with white linen clothes) your guests need to know so that they can dress according. You can give them the information they may need on where to buy or even hire the clothes. They will be grateful to you for this. On the other hand, if this protocol has been decided by the bride and groom, it should be respected. We advise that at church weddings for example, the ladies should have their shoulders covered and that their neckline is not too low. The easy solution to this is for them to wear some type of shawl. For the men, especially if you are to be a witness, take note of what the groom will be wearing, if he wears a jacket then you should also choose to wear one…
 Another issue that the guests have in their minds at most weddings is the gift. What to give to the couple who have just got married?  Well, today, an envelope still remains a good solution for the majority of guests. Sometimes the couple offer their bank account number, but if they don't, you can still give them an envelope with the money inside. Alternatively, you could put something towards the cost of the honeymoon, or make a gift of something you know that the couple may like, such as a weekend away in a hotel, or something for their home, electrical appliances, etc. The value of their gift is another point of concern for the guests. This can vary, depending on whether you go alone or with someone to the wedding, how close your friendship is with the couple or if you are family, and also the price per person in the restaurant.
We hope these tips and advice have been helpful to you and see you soon!
Ibiza Photography photo