Hotels with charm in Ibiza to spend the wedding night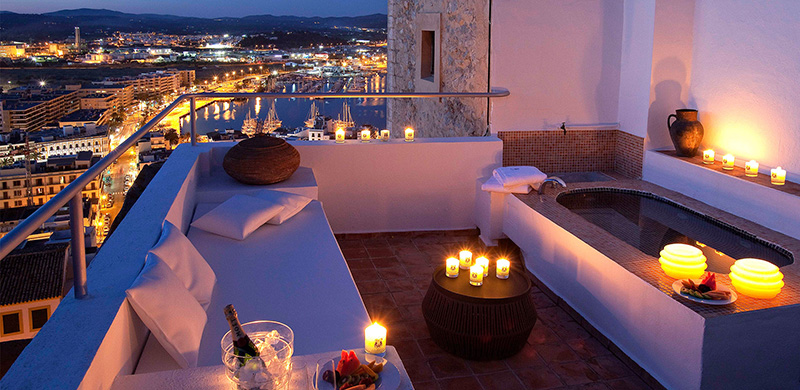 Today we have created a very special post for those who are still wondering about where to  spend your wedding night. So after enjoying the special menu in the Restaurant Ses Roques  and sharing the celebrations with your family and friends, there comes the time for the both of you to enjoy this unforgettable day on your own. From our blog we would like to recommend some luxury hotels in Ibiza for that special night. We are sure that you will like our selection!

Firstly, we would like to suggest the rural hotel Es Cucons. This lovely property is located in Santa Agnes, one of the most beautiful villages in the interior of the island. The hotel is situated in the valley surrounded by nature and tranquillity. It also has a special "Honeymoon Suite" with an outdoor Jacuzzi, sauna, solarium and a chill-out lounger with a direct view of the valley. This special suite is completely separate from the rest of the hotel rooms. It is without a doubt, a very appealing option for those who wish to enjoy the peace and quiet that is offered here. If what you are looking for is privacy and relaxation, the Honeymoon Suite is the perfect choice.
The second recommendation of Ses Roques is La Torre del Canonigo. This is a hotel located in a palace and its defence tower, which was built in the 16th Century in the ancient Roman acropolis. Thanks to the situation of the Tower, in Dalt Vila, all the rooms have views of the city of Ibiza. The principal suite of the hotel has a private terrace with a solarium and a Jacuzzi, overlooking the harbour. Both its location and its special, original architecture make La Torre delCanonigo, one of the most beautiful hotels in Ibiza. This would make a perfect choice for those who want to enjoy the calm of the island in the centre of the ancient acropolis.
Our final recommendation is Can Pardal Boutique Hotel, located in the historic Puig de Missa in Sant Miquel de Balansat. It is situated next to the village church and is fully integrated into the landscape, due to the fact that Can Pardal is a typical Ibizan house, built in the 16th Century and still keeps the essence of the local architecture: thick, white, immaculate walls, surrounded by olive trees and bougainvillea. In the suite you can enjoy privacy and quiet since it has a private
terrace, and a small area to relax, all of which is decorated with exquisite taste to make your stay unforgettable.
Have you already decided on the ideal hotel for your honeymoon? We hope we have been some help to you and we will see you soon with some more ideas and tip
Discover more charming hotels in Siente Ibiza